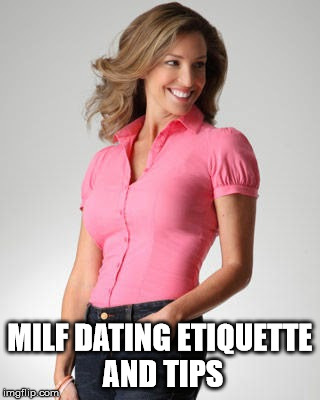 MILF Dating Tips and Etiquette
First and foremost, one must be sure the MILF is not still married. Still married MILFs can result in extreme husband irritation as to your poaching. You are going to have enough problems as to the kid(s), you don't need an angry husband on top of that.
As to the kid(s), 20% to 50% of the time, you will be stood up. This percentage will vary depending on the number and ages of the kids the MILF is dealing with.
If one has successfully navigated beyond the above two issues, then the list of following rules apply.
Respect that you are interacting with another human being.
Be understanding when kid problems supersede dates.
Never bring up the kids. This will inevitably result in a MILF soliloquy about kids. Even worse, statements about the Ex will ensue.
Do not attempt to be the MILFs kids' substitute dad. The kids will immediately hate you. Let the relationship develop naturally over time. Let the kids and the MILF set the pace.
MILFs know how to cook, avail yourself of this at every opportunity.
Have you become thoroughly tangled up with the MILF over time? Well then, might as well go ahead and do the drop off and pick up the kid(s) and other errands.
Are you now doing her home repairs? Looks like you are doomed, time to marry her.
Lists of Somewhat Humorous Reminders as to Things One Should Not Do or Say on MILF First Dates
List of Things One Should Not Do
Chew gum (or anything else).
>Wipe your nose with your shirt sleeve.
Brag about the people skills you learned while serving time for assault and battery.
Mention the time you were caught under your boss's desk.
List of Things One Should Not Say
You gotta cigarette?
You got some Alka-Seltzer? his hangover is killing me.
I haven't stalked anybody in months.
...lawsuit...
Still waiting for my STD test results.
What are your favorite positions?
I love you.
...restraining order...
...ankle bracelet...
Nice dress! I have one just like it
My wife wanted me to ask if you like threesomes.
To End on a Serious Note...
You are interacting with an adult who has had considerable experiences in life, some of which have been extremely good and some of which have been extremely bad. As the quote at the bottom of every page on this website says, "One of the most important lessons a person can learn in life is other people are as real behind their eyes as you are behind yours." — Author unknown