Latest update: August 10, 2022. Page URL indicates original publication date; meanwhile, times change and the updates continue.
Businesses Know Consumers Blindly Sign Anything
The former title for this article was
Beware Unfair, Fraudulent, Scam Consumer Contracts - Just Say No.
This page is a cautionary note. Unethical consumer contracts are the ultimate definition of SWAG (Stolen Without a Gun).
Consumer contracts are not your friend.
Contracts and the Law and You and the Judge
"But, your honor!?!" I said to the judge...
Judge, "You signed a contract."
Me, "You mean that paragraph at the bottom of the application form?"
Judge, "Yes."
Me, "But every bank in the country has that clause."
Judge, "What clause?"
Me, "The sentence that says I've read and agreed to their charter; that I've read and agreed to all their bylaws; that I've read and agreed to all their rules and regulations. All of that stuff would be a stack of paper from the floor to the ceiling; and they wouldn't even have copies at the branch for me to read anyway."
Judge, "I know. But anything you sign is a contract." (He is right of course.)
Me, "But every financial institution in the country has that clause."
Judge, "I know."
Me, "But if we don't sign, we can't get a checking account, savings account, credit card account or loan anywhere!"
Judge, "Sucks, doesn't it?"
Me, "What do I owe?"
Judge, "Well, let's see what they made up... Yep, that's what you owe."
The above story is fictional, but versions of it happen in real life thousands of times every month. That is why I never do business with national banks or credit card companies.
Finding a local credit union
is the only way to go; they have versions of the same clause, but most of them are not thieves (see referenced article).
Needless to say, unethical consumer contracts don't just apply to national banks. In fact, there are credit card companies out there that are 10 times worse than any bank. Cable companies are another example, which is one reason why customers are leaving them in droves. Some cellphone carriers are also less than scrupulous, their contracts sometime include a clause stating you have to pay them even when they don't provide the agreed upon services. And then there is the worst of the worst, otherwise known as
private sector contracts having to do with anything medical
.
Warnings and Alerts About Consumer Contracts
You have no civil rights when you blindly give them away by signing a multi-page, fine print contract without reading it. This happens all the time. The days of trusting an entity just because they are a large corporation or an established business are long gone. This is especially applicable as to credit card companies, medical entities, financial institutions, auto repair entities, and pretty much any and all other service-related entities. Corporate greed is the rule, not the exception.
Read the contract. If it's too long for you to read and understand at the time, don't sign it. If any of the print is too small for you to read, don't sign it. If there is anything in it you don't like or understand, don't sign it. If it's incomplete, don't sign it. If you don't know what you are doing, don't sign it.
By definition anything you sign is a contract; whether it be just a single word, phrase, sentence, paragraph, or a hundred page document. Whenever someone tries to get you to sign something, it is for their benefit, not yours.
Reading a contract will give you an education; not reading a contract will give you an "adventure".
Unethical contracts and incompetent/unethical civil laws victimize more people than all legally defined criminal activity combined. It is the ultimate definition of SWAG (Stolen without a Gun).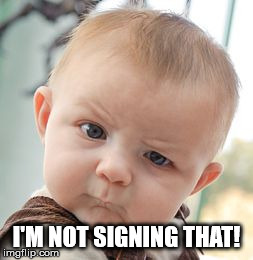 Beware Consumer Contracts
About Class Action Lawsuits
A class action lawsuit can result when a significant number of consumers have been victimized. Sometimes the company made an honest mistake, a defective product for example. Many times, however, class action lawsuits can result from SWAG consumer contracts or other behavior so egregious that it can't be covered up anymore. Personally, I think some of these cases should be in criminal court as opposed to civil court. If you happen to notice a class action lawsuit you are eligible to join as a member, you might as well sign up for it. You may not get much in the way of compensation, but at least you will get something.
Side note: I am not an attorney. Any attorney, legal firm, or government agency who specializes in defending/protecting/helping consumers and patients are welcome to post links to their websites in the comments section below. Any attorney or legal firm doing consumer-related or patient-related class action lawsuits are also welcome to post relevant links.
- End of Article -
Re: Using Mobile?
Home
: site intro and featured articles/resources.
View Web Version
: displays Main Menu article categories (will be located below), additional site info (below and side), search function, translation function.