Latest update: April 14, 2020
Do read the last paragraph.
And a pandemic update. Needless to say and for now, do temporarily ignore those suggestions which involve crowds or otherwise abrogate social distancing.
Constructive and/or Fun Things to Do When Bored
What to do when bored. Short, medium, and long-term items. Something for everyone. Both fun things and/or productive things. It is hoped this list will serve you well.
Random list of ideas for when you are bored. Or even when you are not so bored.
10 humorous or weird really short stories for you to read, all on one web page at Flash Fiction Land.
Chores and Housework never killed anyone (well, hardly ever).
Sign up with a video streaming service; Netflix, Hulu, Amazon Prime, YouTube, etc.
Try to find the next big thing internet trend.
Get that nagging medical problem taken care of.
Are your glasses or contacts due to be replaced?
Start a growing-indoor-plants project.
Been thinking about getting an aquarium?
Backyard barbecue.
Backyard cleanup.
Go to a restaurant.
Go to the mall.
Go to the grocery store.
Go to a thrift shop.
Mess around with Facebook, Twitter, Pinterest, other social media.
Start that hobby you have been putting off.
Get up earlier than usual.
Does the car need washing and/or waxing?
Basic car maintenance. Tire pressure check. Oil level check. Radiator level check. Brake fluid level check.
Start a website or blog (you will never be bored again).
Buy a kit and put it together.
Take a well-deserved nap.
Reorganize the basement. You certainly don't have to do it all at once. Just make a good start.
Take a vacation trip (short or long). Already had one? There's no law that says you can't take another one.
Cleanup your hard drive. Do a computer tune-up.
Find out the titles of your favorite songs and buy them.
Call someone.
Make peace with someone.
Write someone a friendly note.
Get a haircut.
Reorganize a closet.
Start to reorganize the garage. As with the basement, you don't have to do it all at one..
Reorganize part of the attic.
Look for a better place to live.
Research your next car.
Research your next computer.
Research your next phone.
How far is the nearest horse riding place?
Go roller-skating.
How far is the nearest go-cart place?
Go bowling.
When is the last time you played pinball?
Go to an amusement park (expensive, call or look-up how much and if crowded first).
Go to the zoo or a museum (usually cheap, but call first anyway to be sure).
Go for a walk or jog.
If feasible in your neighborhood, get a bicycle.
Look for a better job.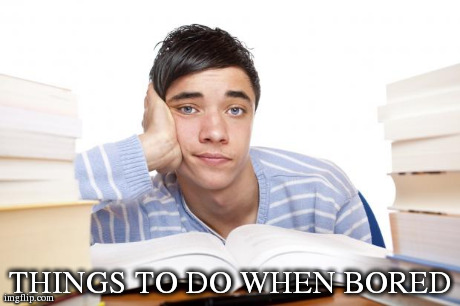 I Am Bored. What Should I Do? List of Things to Do When Bored.
This list was formerly published on one of my other websites. I was bored, so I decided to move it here. And no, that is not me in the picture. The image (without the text) came from NASA no less.
And a note about boredom in general. When one is bored, it usually means their life is secure and they are not being threatened by anything having to do with survival or quality of life issues. Being bored is an excellent time to take the opportunity to do something that advances the attainment of things one wants in life. Boredom is a gift that few people are lucky enough to have; use it wisely.
- End of List -
Re: Using Mobile?
Home
: site intro and featured articles/resources.
View Web Version
: displays Main Menu article categories (will be located below), additional site info (below and side), search function.