Originally published Thursday, August 14, 2014. Last updated Tuesday, August 19, 2014.
Bubblews News. Is Bubblews a scam? Unfortunately, it does appear to be so. Even worse, the targeted victims are those who can least afford it.
This
article about Bubblews
will tell you all about Bubblews and what exactly they are up to. It's really too bad they have cheated so many people. But, as has often been said, the internet is really nothing more than a mirror of real life.
Here are some quotes from the article. They are not pretty...
"The truth is that - because Bubblews is a marketing machine..."
"Why were so many redemptions not paid?"
"Why were so many emails about non-payment ignored?"
"...after discovering how much money Bubblews is actually stealing from Bubblers..."
"...Only over the month of July 2014, I estimate that Bubblews won't pay around $100,000 of redemption money to Bubblers..."
-----
Bubblews News. And if you are one of the many tens-of-thousands of people who Bubblews has ripped off, here is where to report it,
www.fraud.org/complaint
. And maybe tell them about the above referenced article, so they will understand what is going on.
Bubblews News Update: I just found out bubblews is based in Costa Rica, so as to avoid all US fraud and other laws apparently. So don't know how much good it will be to file a fraud complaint. Maybe the federal government can still do something about it though.
And, yes. I, too, have been cheated by Bubblews to the tune of around $100. I wished I had checked
ScamAdvisor.com
first.
-----
Bubblews News. And if you've been wondering where all the new spam in your inbox has been coming from after you joined Bubblews, I think we now know... And do be advised Bubblews sells your private information to anyone who is willing to pay for it.
-----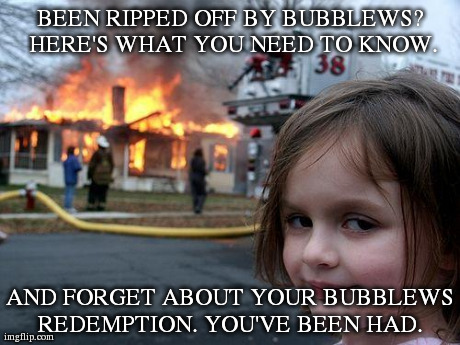 Scam Alert! Been ripped off by Bubblews? Here's what you need to know. And forget about your Bubblews redemption. You've been had.
Bubblews News. And, if you haven't already heard enough, here is another article indicating that 50% of "Bubblers" are not being paid their redemptions:
Bubblews Really Is a Scam
. I wonder if a class action lawsuit is in the Bubblews future? Although the Bubblews website is apparently located on a Costa Rican server with a bunch of p o r n sites, Arvind and the gang are in the US; assuming of course they can actually be found. I have seen posts that they are located in Virginia; so I don't know if the whois San Francisco address is just a phone-forwarding mail drop or what.